Bibliography of Research Methods Texts, ACRL IS Research and Scholarship Committee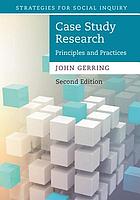 Gerring, John. 2017. Case Study Research: Principles and Practices. 2nd ed. New York: Cambridge University Press. 332p. ISBN: 9781107181267.
It has been nearly a decade since Gerring first published Case Study Research: Principles and Practices. In both editions of his textbook, Gerring's intent is always to make the subject understandable to new learners. Recognizing the time lapse between editions, he appropriately updated and expanded the second edition to match the development of case study methodology since 2009. The 2017 edition offers five sections, with a generous number of tables and figures contained throughout to complement his subject. Parts One and Two look at the history of case study research in social science disciplines, offer exemplary works using case study research, define terms (useful for working in the unsettled environment of case study work), and discuss case selection, with chapters on both descriptive and causal case studies.
Parts Three and Four discuss tools and techniques, effectively covering quantitative/qualitative case analysis, as well as both internal and external validity, an upgrade from the first edition which dealt primarily with internal validity. Although both small case (small-C) and large case (large-C) studies are referenced throughout the second edition, the concluding Part Five compares the two styles in an organized fashion, important as both have strengths and weaknesses. Gerring's second edition of Case Study Research: Principles and Practices remains essential for budding and seasoned social scientists.
– Penny Hecker, 2017
Hancock, Dawson R., and R. Algozzine. 2011. Doing Case Study Research: A Practical Guide for Beginning Researchers. 2nd Ed. New York: Teacher's College Press. 106p. ISBN: 0807752681.
This handbook is geared to novice researchers in education and the health professions. Its aim is to demystify the process of planning, conducting, and reporting the results of case study research. Assuming no prior knowledge or experience on the part of the reader, Hancock and Algozzine's text serves as an invaluable introduction to the case study method. This edition has been updated to include new examples, new information about evaluating case studies, and using social media to introduce research.
– Ramona Islam, 2009; revised by Amy Kelly, 2013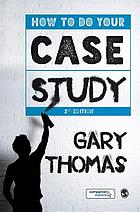 Thomas, Gary. 2016. How to Do Your Case Study. 2nd ed. Thousand Oaks, CA: SAGE. 288p. ISBN: 9781446282656.
This introductory text explains the basics of case study methodology through jargon-free language, focusing not only on how but also why and when to do this type of research. The author makes use of simple, understandable example case studies to illustrate key points throughout the book, giving beginners ideas for plausible studies they could conduct themselves. An index and references are included, as well as suggestions for further reading at the end of each section. Look beyond the cover—despite a measure of goofiness interspersed throughout the book, it's well worth reading whether you're interested in learning about conducting a case study or understanding the role of case study research in the greater context of social science methodologies.
– Liz McGlynn Bellamy, 2017
Yin, Robert K. 2013. Case Study Research: Design and Methods. Applied Social Research Methods Series 5. 5th ed. City, ST: Sage Publications. 240p. ISBN: 1452242569.
The new fifth edition of Robert K. Yin's popular textbook has several updates and additions. The book still includes various types of case study research designs, methodologies, and analyses useful for researchers in education, business, health sciences, anthropology, sociology and political science; however, Yin has added several case studies and tutorials. Finally, Yin has focused more heavily on logic, values and ethics in this edition.
– Ramona Islam, 2009; revised by Amy Kelly 2013