Bibliography of Research Methods Texts, ACRL IS Research and Scholarship Committee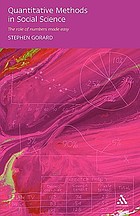 Gorard, Stephen. 2003. Quantitative Methods in Social Science. New York: Continuum. 252p. ISBN: 9780826465863.
If you are considering undertaking a survey or other quantitative research project, Gorard's book is an essential guide. Gorard's main theme is to think carefully about your motives for using quantitative methods, and then plan your project from sampling and survey design through data analysis. The book will be useful to those with some basic statistical knowledge, as well as relative novices. The explanations are written in clear prose, and there are useful examples from real research throughout.  Gorard provides a brief, but effective, glossary of statistical terms, as well as a list of references to more detailed treatments of quantitative methods.
Quantitative methods in social science will be of real use in the design phase of any project that makes use of numbers, even simple descriptive statistics. The book is especially strong in explaining the fundamental concepts and principles underlying statistical methods and analysis so that researchers can make better and more informed choices. In an age when software tools make it relatively easy to collect numbers, Gorard's book is a welcome prescriptive for using numbers in a sound and effective way.
– Wendy Holliday, 2006; revised by Rebecca K. Miller, 2014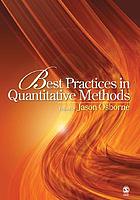 Osborne, Jason W. 2008. Best Practices in Quantitative Methods. Thousand Oaks, Calif: Sage Publications. 608p. ISBN: 1412940658.
This collection of best practices in quantitative research methods is intended for graduate level students and researchers. The text, featuring a variety of international academics, includes best practices in measurement, research design, data analysis, quantitative methods and best advanced methods in quantitative methods. The text aims to provide the reader with best practices and, when possible, demonstrate why those practices are deserving of the term 'best'.
– Catherine Johnson, 2009